RECIPE: MILK BREAD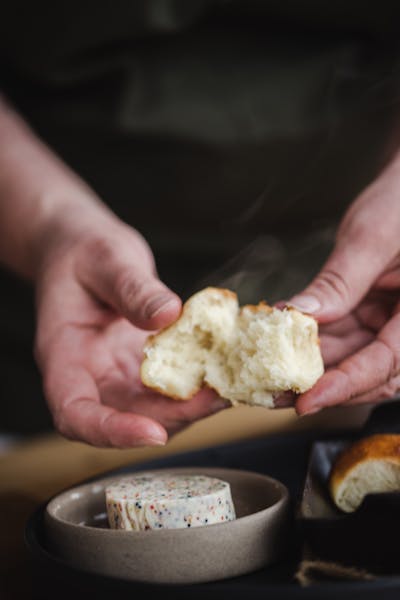 During the current quarantine, we have been keeping busy from the comfort of our homes. Like just about everyone else we have been taking to the kitchen, in the form of baking. One baking recipe has been with us since we opened Houndstooth's door, Milk Bread. Cheyenne started using this bread to make the tiny donuts served on the Black Bean Chicken. Since then it has quickly become a love affair. The dough has been used to make our fennel buns for Bread and Butter, our Saffron Split-top buns, as well as our special brunch buns.
So you never ordered the Bread and Butter when you came in or you have no idea what "milk bread" is, here is what we can tell you about them, from our experiences before quarantine baking became a thing and during.
Cheyenne: I like to make this dough/bread because it is extremely versatile and forgiving. It is virtually impossible to overproof it. If it's a bit under proofed, that's ok too. We've pushed the boundaries of this dough quite a few times and it still comes out great. I also am in love with the way the dough feels when you're working with it. The bread itself is sweet and textural perfection.
Lindsey: It is the most versatile dough we have ever found! It can be made savory or sweet, you can mix herbs and spices into the dough itself, the dough is sturdy enough to roll out and fold into knots and rolls but still comes out extremely tender and soft when baked. You can even use it as a cheat croissant dough by folding layers of butter into the dough it will come out flakey and buttery without the hassle and time consumption of making an actual croissant.
When made into buns, the dough is so soft and when you break the bun open, it is reminiscent of a Pillsbury doughboy biscuit that you buy in a can, but like elevated
James: I remember the first time I ate Japanese Milk Bread (Shokupan). I was at Momotaro in Chicago having their tartare. I was super taken away by its soft and fluffy texture. Shortly after that, I tinkered with it a bunch. However, I have never proclaimed to be a baker. That has always been Chey's and Lindsey's strengths, which I've always purposely avoided. I decided to tackle baking as my savior from insanity during the quarantine. Baking Shokupan has been my favorite dough to work with so far. It's very forgiving. I messed up my measurements the first time and it was easily fixable and still came out great. Texturally it's soft and smooth and is really fun to work with your hands. My last version was a hybrid of Milk Buns and King's Hawaiian Rolls. Yet again it came out wonderful. All around very versatile.
So without further ado, the recipe! If anyone needs any help, whether sourcing ingredients or method help, feel free to reach out to us!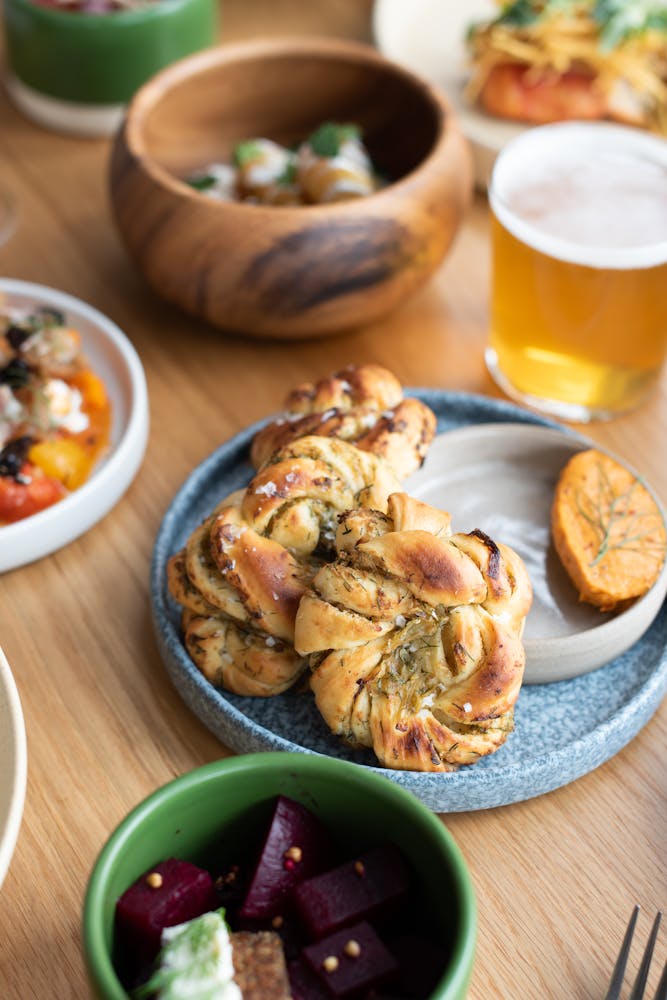 MILK BREAD
For The Starter:
45g Bread Flour
120mill Whole Milk
120mill Water
For The Dough:
325g Bread Four
60g Sugar
7g Active Dry Yeast
4g Salt
1 Egg
120mill Warm Whole Milk, plus extra for brushing on the unbaked loaf
60g Unsalted Butter, cut into pieces and softened at room temp, plus extra for buttering bowls and pan
Step 1: Make the starter
In a small heavy pot, whisk flour, milk, and water together until smooth. Bring to a simmer over medium-low heat and cook, stirring often, until thickened but still pourable, about 10 minutes (it will thicken more as it cools). When it's ready, the spoon will leave tracks on the bottom of the pot. Scrape into a measuring cup and lightly cover the surface with plastic wrap. Set aside to cool to room temp (you will have about 1 cup starter.)
Step 2: Make the dough
In a bowl of a stand mixer fitted with a dough hook, combine the flour, sugar, yeast, and salt and mix for a few seconds until evenly combined.
Add egg, milk, and ½ cup of starter. Turn the mixer on low speed and knead for 5 minutes. Add soft butter and knead arother 10-12 minutes (it will take a few minutes for butter to be incorporated), until the dough is smooth and springy and just a bit tacky.
Step 3: Rising
Lightly butter the inside of a bowl. Use your hands to lift dough out of mixer bowl, shape into a ball and place in prepared bowl. Cover with kitchen towel and let rise in a warm place until doubled in size, 40 to 60 minutes.
Punch dough down and use your hands to scoop it out onto a surface. Using a bench scraper or a large knife, cut dough in half. Lightly form each half into a ball, cover again and let rise 15 minutes.
Step 4: Rolling
Heat oven to 350 degrees. In the meantime, generously butter a 9-by-5- inch loaf pan. Using a rolling pin, gently roll out one dough ball into a thick oval (by this time, the dough should be moist and no longer sticky. You probably will not need to flour the surface, but you may want to flour the pin.) First roll away from your body, then pull in, until the oval is about 12 inches long and 6 inches across. Fold the top 3 inches of the oval down, then fold the bottom three inches of the oval up, making a rough square. Starting from the right edge of the square, roll up the dough into a fat log, pick it up and smooth the top with your hands. PLace log in the buttered pan, seam side down and crosswise, nestling it near one end of the pan. Repeat with the other dough ball, placing it near the other end of the pan. Cover and let rest 30-40 minutes more, until the risen dough is peeking over the edge of the pan and the dough logs and meeting in the center.
Step 5: Bake and Cool
Brush tops with milk and bake on the bottom shelf of the oven until golden brown and puffed, 35-40 minutes. Let cool in the pan 10 minutes then remove to a wire rack and let cool at least 1 hour to let the crust soften and keep the crumb lofty.